Thursday, 6 August 2009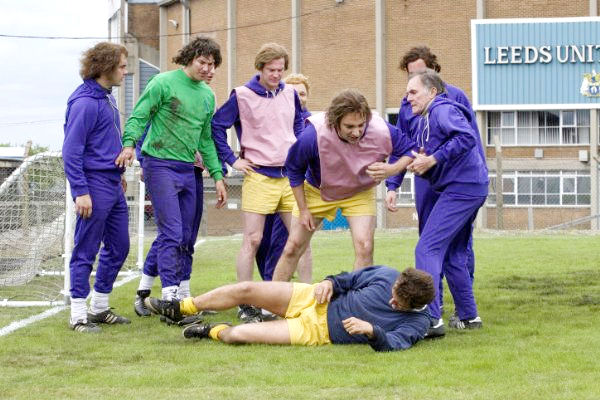 Exeter City's purple away kit of the 1990s. Unlikely to have been modeled on the purple training kit from The Damned United film
Saturday. 3pm. August 8th. That point in time cannot come quick enough as Exeter finally play their first game of competitive football in nearly three months. I know it's been hard, but somehow I've got through it. And an opening day fixture against the biggest club in the division is a rather nice start.
How Exeter will do is another question. At Soccerlens,
Leeds are my tip for the title this season
and with the likes of Snodgrass and Beckford, on paper they're a class above what we probably have. All that stands between us and oblivion could be Bertie Cozic.
But hang on. Let's wind our necks in and calm down a bit. On paper could mean anything and Exeter, under Paul Tisdale, are nothing if not unpredictable, in the best possible way.
We can lose at home 6-1 to Chesterfield, away in the FA Cup to Curzon Ashton yet still gain promotion with some of the best football St James' Park has ever seen. And we're not about star players, City are very much a team. And an unknown quantity team at that. Even us fans have no idea what we'll do this season.
This may just work in our favour. The bookies won't fancy us, Leeds may well see this as an easy three points (they shouldn't. They doesn't mean they won't), and you can't imagine they'll know a great deal about us. They certainly won't have learned too much from our pre-season results.
So that means the opening day is a perfect time to be playing Leeds. Although the majority of my head says we'll lose, there's also a small part of me that thinks City have what it takes to nick a draw or even an unlikely win.
Tis is also a big game manager. Bar that playoff final which I'd rather not talk about, City have a decent record against the big clubs and big games. It's the smaller ones we tend to come unstuck with.
Equally, I'm just as clueless about the team selection as anybody else. Pre-season has given a few clues as to who Tis will pick, and it's hard enough to guess who'll line up even when watching Exeter week in week out.
Jones in goal is a given, as is Matt Taylor in defence. After that, who knows? Harley's had a good pre-season, Panther and Russell have featured a lot but that's as far as I can guess. As for the strikers, spin a wheel and take your choice.
We can't treat this as just a day out in Yorkshire. If the fans and the players think we're just along for the ride then we'll fail.
Not that for one minute I expect that to happen.
If you're expecting immediate post-match analysis on here, prepare to be disappointed. Mrs HaL is from Leeds and we're spending the weekend there so we'll be offline. But then you'd expect nothing less from us either. Tis' team selection = predictably unpredictable. Happy As Larry = predictably amateurish.